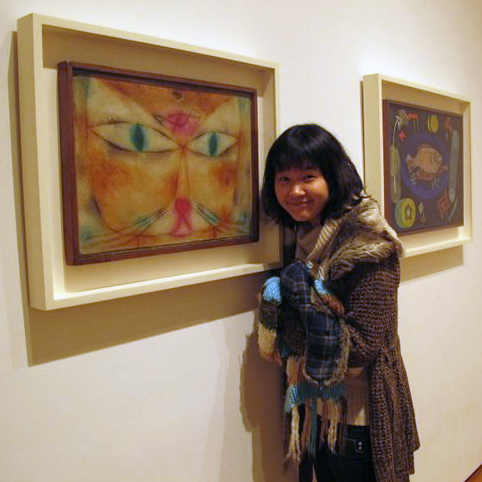 Hua Yang
Graduate Student
Dept of Psychological and Brain Sciences
Dartmouth College
Moore Hall 6207
Hanover, NH

Hua.Yang [at] dartmouth.edu

+1 (603) 646 9630

Focus of Research
I am using behavioral experiments with fMRI studies to probe the underlying mechanisms underlying object recognition, especially face perception, combining with developmental studies on prosopagnosia patients. I am also interested in visual consciousness, binocular rivalry, interocular suppression. I'm interested in studying various perceptual processings without awareness, their neural activation and decoding the patterns under these conditions. I like to explore the combination of scientific methods, including mapping neuroimaging onto psychophysics, computational modeling of physiologic and psychophysical data.

Education
2010 - Pres PhD. Cognotive Neuroscience Dartmouth College.
2006 - 2010 B.S. Psychology Peking University.
Honors and Awards
2011 Elsevier/Vision Research Travel Award (VSS Student Travel Award).
2010-2014 Dartmouth Grants for Graduate Study or Research.
2009 Second Prize for high score by New Oriental.
2009 Travel fellowship by Workshop on Cognitive Science.
2006 Scholarship for Excellent Freshman by Peking University.
Publications
Yang, H., Guo, B., Meng, M. (2011) Neural basis of categorical processing for human facial expressions [abstract] (submitted).
Guo. B., Yang, H, Meng, M. (2011) Does image contrast modulate brain activity in the fusiform face area and parahippocampal place area? [abstract] (submitted).
Yang, H., Meng, M. (2011) Probing the feature map for faces in visual search [abstract] (accepted).
Yang, H., Gors, J., Meng, M. (2011) Face-semblance leads to faster visual search and breaking interocular suppression [Abstract] (accepted).
Yang H., Shen J., Chen J. and Fang F. (2011) Face adaptation improves gender discrimination. Vision Research. 51(1), 105-110.
Chen J., Zhou T., Yang H. and Fang F. (2010) Cortical dynamics underlying face completion in human visual system. Journal of Neuroscience. 30(49): 16692-16698.
C Chen J.*, Yang H.*, Wang A. and Fang F. (2010) Perceptual consequences of face viewpoint adaptation: Face viewpoint aftereffect, changes of differential sensitivity to face view, and their relationship. Journal of Vision. 10(3):12, 1- 11.
Fang, F., Chen, J., Yang, H. (2009). Face view adaptation and its effect on face view discrimination [Abstract]. Journal of Vision, 9(8):526, 526a.